Bike Safari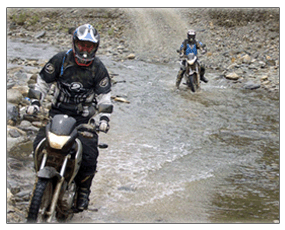 Everything in Africa bites, but the safari bug is worst of all, that's what Brian Jackman said. We would say, of course safari bug is the worst; but bike safari leads the way for the same. Bike safari unlike others is more of an Offroad experience which usually involves exploring the unexplored territories. Simply riding a bike is not sufficient in this kind of adventurous activity; one should be mentally prepared because the journey leads to some of the most unaware stretches.

In simple words, we need travellers with never back down attitude. It won't always be the luxurious one, prepare yourself to live in the local homes, camps and tents. You have to carry your own food and water; basic things won't be available which may make the entire journey exciting and pretty difficult at the same time.
The Unexplored territory
Himachal Pradesh and Ladakh
Day 01: Delhi-Shimla.
Dinner and Overnight at Hotel
Day 02: Shimla-Kalpa.
Morning after breakfast.
Select motorbike of your own choice. Distance from Shimla to Kalpa is 244 km.
Take dinner and night stay with leisure.
Day 03: Kalpa-Kaza, 210 km.
Morning after breakfast.
Start your motorbike and drive it to 38 km ahead till Powari. This ride is on Sutlej Bed and in the lush green forest. Proceed Ribba (18 km) and then to Puh (42 km) ahead on the bank of the Sutlej River. This road is also called the Indo Tibetan road. Later on leave for Kaza, 3660 meters, 47 kms from Tabo.
Reach Kaza and night stay in a basic hotel.
Day 04: Kaza-Losar - 124 Kms
Get up early in the morning and take breakfast.
Step out from your hotel and go for visit to Kibber 4205 m, and Ki monastery, 18 Kms ahead. The distance is barely 18 kms, though we ascend a height of more than 1000 m as we leave Kaza. We will be having a lot of driving in the barren landscapes in the gorge, after Rangrik for next 30 kms to reach Losar.
Overnight stay in Losar.
Day 05: Losar-Jispa - 160 km.
Take breakfast in the morning and start your further journey.
Today you will cross over the Kunzum pass (4551 m) and then proceed to sightseeing of the Chander Tal Lake. Driving in the riverbed of the Chandra River is really adventurous and exciting for the bike and the bikers. Uphill till Grampoo, finally come on the main axis to Leh.
Take dinner and overnight stay in hotel.
Day 06: Ride-Brandy Nullah - 130 km.
Take breakfast in the morning and proceed from Darcha down to Bharatpur and enter the gorge of Sarchu and later comes the plateau. For next 30 kms we will ride in the plateau area and after security clearance we will move to Brandy Nullah.
Reach Brandy Nullah to camp for overnight.
Day 07: Brandy Nullah-Rumtse - 160 km.
Step out from your camp, take breakfast and start your motorbike from the heights of Takh to reach the base of bridge before 1200 Hrs noon. We move ahead of the Pang gorge in the plains. We keep moving and enjoy this adventurous trip of India. Later we move to Tanglangla, the road distance is app. 10 Kms. Ride to Rumtse.
Overnight stay at simple guesthouse or camp.
Day 08: Ride-Sumdo - 180 km.
Morning after breakfast start your journey from Push Bridge. We take right turn after crossing the bridge and proceed ahead to enter into a valley. From Mae Bridge, we have Indus River, following us to our adventure journey until Korzok Gompa on the Tsomoriri.
Overnight stay at simple guesthouse.
Day 09: Ride into Leh - 220 km.
Early morning take breakfast and ride to Tsomoriri Lake, which reflects the snow-covered peaks. Adjoining area is the home of Marmot. It is a beautiful phase in this motor bike tour of India. After sightseeing of this lake, proceed to Leh, the saddle of Buddhist Culture.
Note: From this point the itinerary is scheduled to continue to Leh. A whole day off-road is planned.
Dinner and overnight stay in Leh.
Day 10: Day at Leisure. Bike Maintenance.
This full day is free to explore the delights of Leh. Take breakfast and visit 16th Leh century palace (once the seat of power), the splendid peace pagoda and the busy marketplace. After visiting these places take lunch and go for a half-day river rafting or for playing golf at Leh's par 3 golf courses at 11,500 feet. Our representative will take care of your bike's maintenance, assured with the mechanic.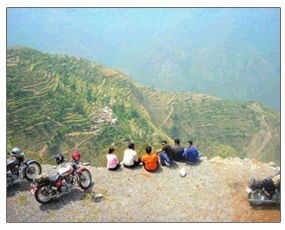 Day 11: Ascend Khardungla & ride into Nubra Valley.
Creating history, you will join the Elite Group of motorcyclists to ride the world's highest motorable road: Khardungla. At 18,380 feet requires few hours of climbing at Leh. After a surrealistic motor bike tour it is the time to let loose and gas it.
Overnight stay and dinner.
Day 12: Khardungla-Leh.
Morning after breakfast, drive back to Khardungla along with your motor bikes. Have fun during your tour and enjoy while coming back.
Dinner and overnight at Leh.
Tour Ends