Wildlife Safari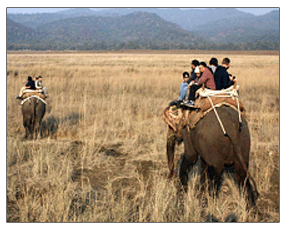 An elephant back safari is not just a ride on the largest animal in India, it`s a mesmerising experience where the traveller gets a chance to interact with the wildlife and terrains even jeeps find hard to enter with. If you are an adventure lover and want to have close look on the wild animals in its own habitat, Elephant safari is probably the best option.

It's claimed camels were the first one to be used as a mode of transportation in an early era. Commonly referred as the Ship of the desert, the animal seems to be the most useful one for the desert people. Desert has a world of its own which can be experienced with the camel safari.
Elephant Safari
Jim Corbett National Park (Corbett Tour)
Duration: 02 nights and 03 days.
Destination: Jim Corbett National Park
Day 01: Delhi- Jim Corbett National Park.
Early morning leave for Jim Corbett National Park.
After taking some rest drive a jeep safari through dense forest with an expert nature guide. Enter in Dhikala tourism zone. Enjoy the wildlife and nature's beauty. You may see the elusive tiger, sloth bear, leopard, Gaur, wild cats, hog deer, and much more.
Dinner and night stay in the Hotel
Day 02: Elephant Safari at Corbett
An early morning elephant ride in the grassland and dense forest.
Back for breakfast and again drive for lake area by jeep safari.
Dinner and Overnight in the Hotel.

Day 03: Tour Ends
Early morning take breakfast and get ready for the jungle safari. Enjoy the nature's beauty and wildlife.
Return back to guest house take lunch and leave the Corbett National park with an unforgettable and lifetime experience.


Camel Safari
Jaisalmer Sand Dunes (Sandunes Tour)
Duration: 01 night/02 Days
Destination: Jaisalmer
Day 00: Delhi-Jaisalmer
Dinner and Overnight Stay at Hotel.
Day 01: Camel Safari at Jaisalmer sand dunes.
After early Breakfast, Leave for Camel Safari.
Witness the beautiful villages like Unda, Bheelon ki Dhani, Mixed caste village and lot many isolated sand dunes.
Dinner and Overnight at Hotel.
Day 02: Tour Ends
After early breakfast, witness the beautiful camel safari for the second day.
After the entire mesmerising day, departure.